Dukascopy is a Geneva-based brokerage established by founder Dr. Andre Duka, along with Veronika Makarova in 2004. It acquired a banking license in 2010, which led to the foundation of Dukascopy Bank.
The bank is regulated and authorized by tier-1 regulatory bodies, which earns it a trust score of 90 and a reputation for being low-risk.

Trading Features
Dukascopy offers trading in foreign exchange and CFDs, with 60 currency pairs and 593 CFDs, respectively. For Dukascopy forex trading, they also offer Spot Trading. 
The bank acquired more than 148 million CHF in assets. Clients trading with the bank is entitled to insurance protection worth up to 100,000 CHF. 
With regards to cryptocurrencies, the bank has created its own coin, Dukascoin, after offering CFDs in cryptos like ethereum and bitcoin.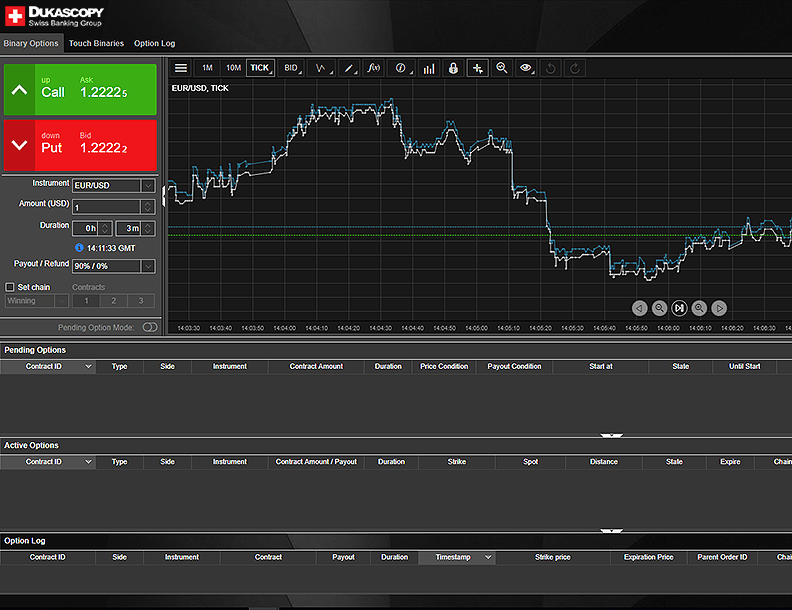 Trading Platform
Dukascopy's own platform is called JForex 3, an installable web platform compatible with Apple and Windows.

According to the Dukascopy official website, JForex 3 is on par with MT4 and offers traders the privilege to trade with 291 technical indicators, drawing tools, and customizable indicators.  
More on the Dukascopy website, the bank offers algorithmic trading, where clients can access VPN services and their own cloud storage.
Some of the platform's advanced features include a cancel-all option that means canceling all existing orders. Platforms don't always offer this.

Mobile Trading
The Dukascopy mobile trader version of its platform JForex 3, makes it even more accessible for clients. This mobile app features charting and research that clients can freely access in acquiring information about trading and usage of various tools. Another of its features is a recognition tool of patterns to give clients trading ideas.

Accounts: Commissions and Fees
Dukascopy reviews on the internet provide data on commissions and fees required by Dukascopy as attested by its clients. 
Account type:
Dukascopy forex trading only offers one type of account, which is under the ECN account. Spreads are technically similar to all clients; however, what varies are rates depending on the size of the trade, net deposits, etc.
Also, clients can choose whether they want to open their ECN account with Dukascopy Bank (Switzerland) or with Dukascopy Europe.

Dukascopy Security
The overall rating of the bank considering all Dukascopy broker review and Dukascopy opinions taken from various website and culminated into one data is shown below:

Conclusion
Overall, the bank Dukascopy is a fairly reliable broker in trading foreign exchange and CFDs and has one of the best platforms available in the market today. Most Dukascopy reviews reveal that clients are satisfied with the services of the bank, and no reviews were stating that Dukascopy scams traders or of Dukascopy cheating on its clients. On the Dukascopy official website, the bank's various achievements and success as a reliable broker are displayed, and they have the full trust of their clients. So overall, Dukascopy is recommended to traders so they can access reliable, honest, and competent trading.

Read more: