A young exchange, Beaxy is a leading all-in-one platform for crypto traders servicing around the world with 24/7 customer support, superior technology and trading tools, and top-tier account security.
In this Beaxy review, we will divulge the exchange's salient features and assets along with its company profile, perks and programs, security, and supported digital coins, among others.

About Beaxy
Established by traders for traders, Beaxy aims to bridge the gaps between cryptocurrency and legacy finance, based on the ideals of its developers in CEO Artak Hamazaspyan, COO John Galvagno, and Director of Engineering Federico Almaraz.
Its headquarters is in St. Kitts & Nevis in the Caribbean Islands. Reportedly, it has two other sites in Illinois and Chicago. Despite being launched more than a year ago, Beaxy is already a global brand as it services to over 180 countries across the globe.
Beaxy offers a powerful crypto trading solution to the crypto community as it provides instant trade processing and managing hundreds of thousands of traders efficiently every second, advanced order types, first-class security protocols, round-the-clock customer support, and competitive fee structure to sit well with its staking program and bonuses.
As a one-stop-shop, Beaxy also offers custody wallets to help users safely secure their earned crypto tokens.
To date, Beaxy has a daily trade volume of $281 thousand, though relatively smaller than industry leaders, the Beaxy Exchange is giving them a run for their money as it offers powerful crypto trading solutions and conditions.
Interestingly enough, Beaxy has its native crypto coin called BXY which is part of the exchange's scheme of attracting traders to use it to gain more exciting rewards.
The Beaxy Exchange is operated by Beaxy Digital Ltd. Its official site is https://beaxy.com/.
In the next segment, let's highlight the advantages and disadvantages of Beaxy as a new crypto exchange.
Beaxy at a glance: Pros and Cons
PROS
Top-notch trading technology – Beaxy's trade order processing speed can be considered as one of the fastest in the industry as it can process 225,000 tps with less than 1ms latency. Beaxy's trading platform also features advanced order types (over 20 types available), topping other exchanges' standard order types offering. The platform is also designed to handle long-term scaling. 
Unique features and Functionality – As an all-around exchange, Beaxy's services span to providing crypto and fiat trading pairs, sporting a custody wallet, providing access to order books, housing institutional accounts and free educational resources, running a Staking program, offering its own crypto coin, rewarding deposit bonus & referral program, and facilitating instant conversion of fiat currency to cryptocurrency.  
Convenient Web-based Trading and Mobile Trading –While some exchanges are still developing their trading platforms to warrant trading convenience, Beaxy already possesses powerful web-based and mobile trading platforms. Beaxy has teamed up with OneMarketData to offer robust trading tools including market analysis, data research, surveillance, and back-testing services. The platform is sporting an intuitive interface and is fully customizable to fit novice and veteran traders. Meanwhile, Beaxy's mobile trading app is downloadable on the App Store and Google Play.  
Excellent Customer Support – A 24/7 customer care is Beaxy's most distinctive advantage. The round-the-clock support is amplified by utilizing several social media sites including Twitter, Telegram, Reddit, Discord, Instagram, YouTube, Bitcointalk, and Medium. On top of that, Beaxy has live chat functionality on its site. More so, the site is available in many languages and houses other customer aid features such as Knowledge Base, FAQ, and Support.
First-class Security Protocols – Beaxy is serious when it comes to customer account security that is why it operates with industry-leading security features to back its users and foster safe and secure trading. Aside from two-factor authentication, Beaxy also has IP whitelisting. More interestingly, some reports say that Beaxy is currently in talks with cybersecurity magnate, Optiv, to further intensify its security features by providing cloud infrastructure, a white box, and a black box.
CONS
Smaller range of Supported Crypto Coins – Compared to established exchanges, Beaxy has a relatively smaller number of supported cryptocurrencies on its exchange.
Lower-seeded Exchange – It is clear that Beaxy has a long way to go to make it even to the Top 50 exchanges as ranked by Coinmarketcap.com. As of writing, Beaxy is in rank 183. It needs to boost its marketing campaign by introducing more attractive promotions and offerings.
Inexperience – being just a year old in the crypto trading community, Beaxy is still adjusting to fit in and to make its presence felt in the community of exchanges, it needs a massive campaign by servicing to a wider range of traders.
Underdeveloped Learning center – Beaxy is still working on improving its Learning Center to provide a more comprehensive trading resource to its users.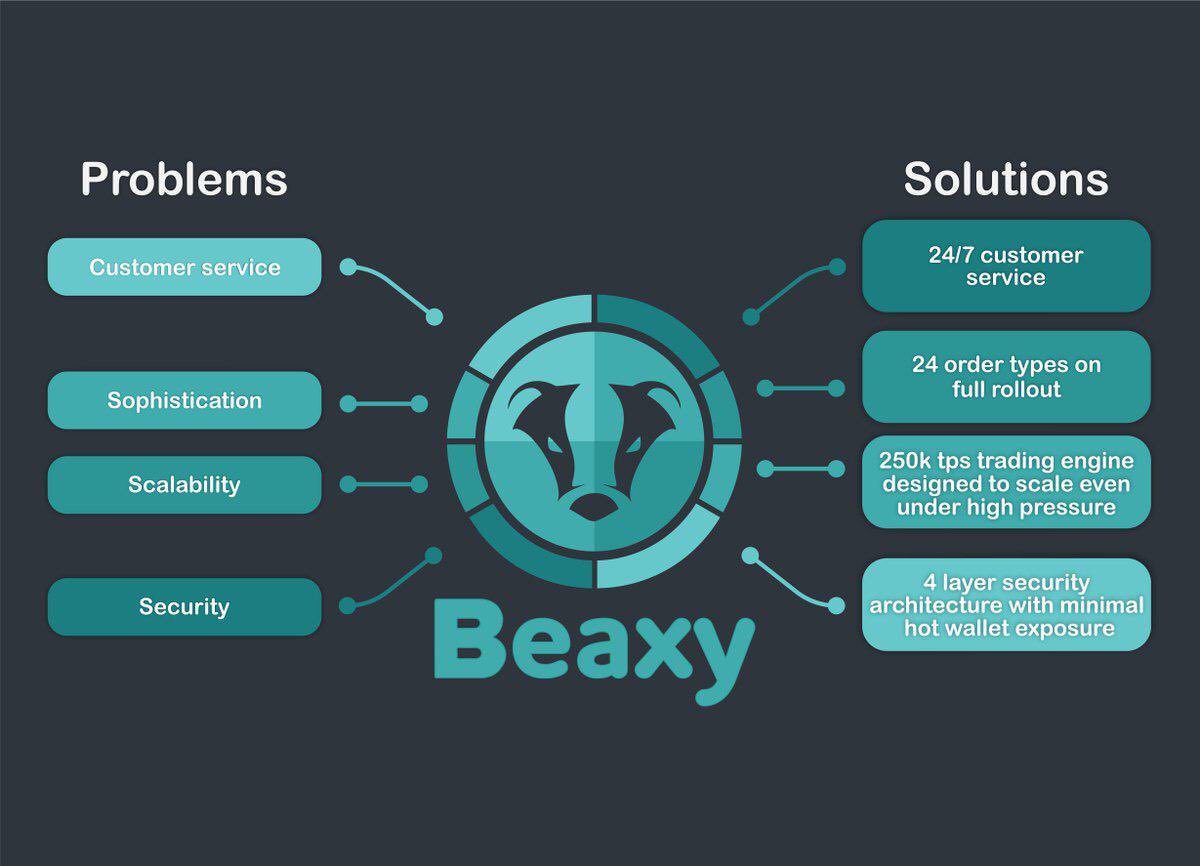 Beaxy Fees and Funding Methods
Trading Fees
Beaxy is parading a good fee structure. It charges 0.20% commission fees, lower than the industry average of 0.25%. Using BXY, the exchange's native crypto coin, traders can reduce their trading fees by 50% and pay a 0.1% commission fee. Aside from that, special discounts apply for purchasing BXY at certain amounts. Ranging from 50,000 BXY- 1,000,000 BXY, traders can save 10%-20%.
Joining Beaxy's Staking program, participants can get 15% of fees collected for 1 month; 20% of fees collected for up to 6 months, and; 25% of fees collected for more than 6 months.
Meanwhile, the referral program is another opportunity to boost your crypto funds. If a user invites other traders to join Beaxy, the user will receive 10% of their transaction fees for the rest of their trading stint with Beaxy.
Funding Methods
With Beaxy, you can have three payment options to fund your trading account. The first option is to connect your bank account to your trading account to directly transfer funds. Another option is to use your debit or credit card and convert your fiat currency to the cryptocurrency of your choice real quick. Lastly, you can also deposit through wire transfer.
The good news is that Beaxy gives a deposit bonus for up to $500 USDC worth of initial deposit.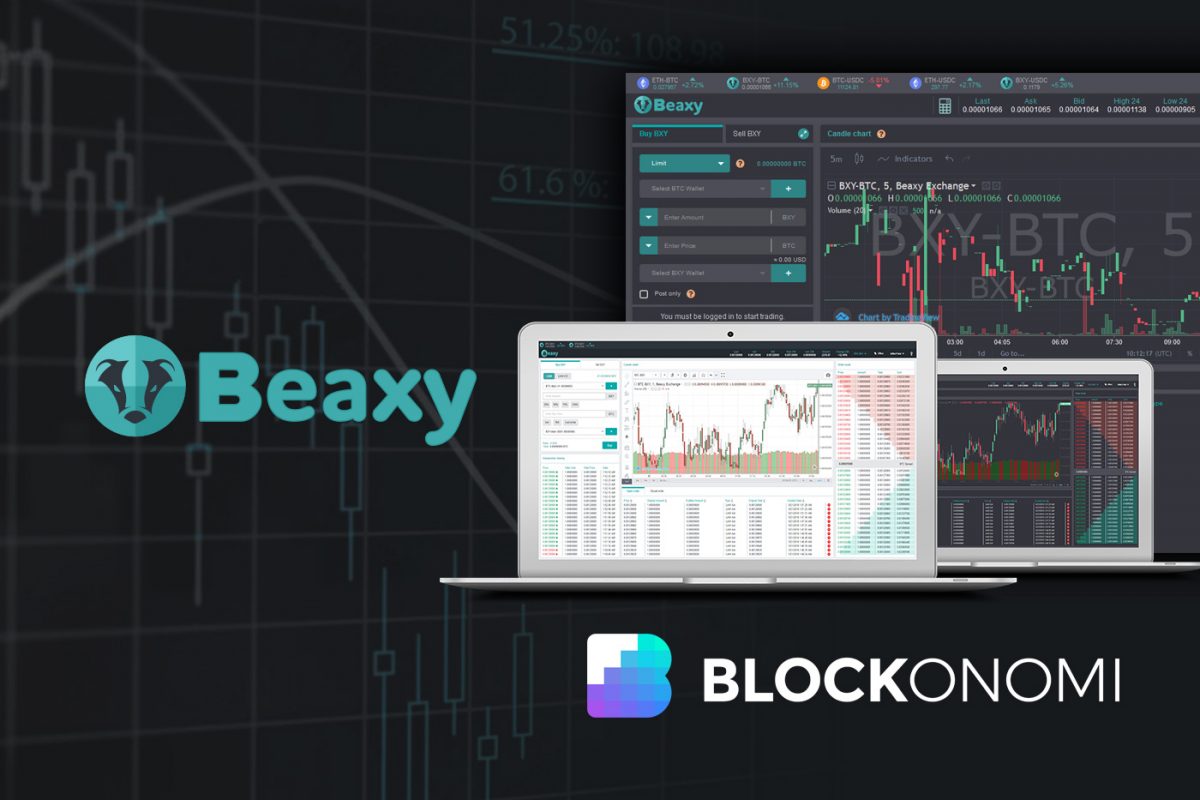 Cryptocurrencies to buy on Beaxy
Once you have registered on Beaxy, you will have to go through some verification procedures prior to making your first login to buy and sell bitcoin and other cryptocurrencies. The next step is finding out the list of cryptocurrencies available on the site and their prices.
Here are the cryptocurrencies supported by the Beaxy cryptocurrency exchange.

Bitcoin (BTC), Ethereum (ETH), Beaxy (BXY), Litecoin (LTC), Ethereum Classic (ETC), Monero (XMR), Zcash (ZEC), NEO, Ripple (XRP), EOS, WAVES, DASH, USD Coin (USDC), Pundi X (NPXS), ICON (ICX), OmiseGO (OMG), Polymath (POLY), DragonChain (DRGN), 0x (ZRX),  Basic Attention Token (BAT), AION, Metal (MTL), Blockparty (BOXX), and Bitcoin Cash ABC (BCH ABC).