Awarded the Best New ECN Broker in Africa by Global Brands Magazine for the first chapters of the year 2020, Superforex, a brokerage firm that was established in 2013, trades a number of currency pairs, cryptocurrencies, precious metals, shares, indices, and futures. It makes 8 trading account types available to its clients in over 150 countries and reaps a total of $$100,000 worth of daily profit.
With this kind of record, it is easy to assume that Superforex is a viable brokerage firm to trade through. To get a clearer picture of how it works and why it had garnered a positive reputation from the trading community, this review will look into its features and offers.

WHAT SUPERFOREX OFFERS:

1. TRADING INSTRUMENTS

CRYPTOCURRENCIES
Superforex provides its clients the chance to trade the most profitable digital assets in the market, among them are BTC, ETH, and LTC to name a few.
GOLD AND SPOT METALS
Superforex also trades one of the most precious metals in the market. Recognizing that the Safe Haven asset to be one of the oldest financial instrument, the firm gives its clients access to the precious metal market for greater profits.

STOCKS
Superforex makes Stock trading available for all its clients. Through this, the client is let in on the opportunity to earn with corporate titans across the globe.

BRENT OIL AND OTHER ENERGIES
Seen as one of the most popularly-traded CFDs in the market, Brent Crude is opened to Superforex clients as the firm knows that it would prove lucrative a trade.

INDICES
While not necessarily a popular trading instrument generally, Superforex opens Indices as trading instruments in its recognition of the mini contracts on the S&P 500 stock index as well-known in the United States.

2. TRADING PLATFORMS

METATRADER 4
Superforex had partnered with MetaQuotes to offer MetaTrader 4 (MT4) as its trading software. Known across the trading industry, MT4 is widely accepted by the community in that the platform is intuitive and thus can easily be navigated. It had received a number of awards for its comprehensive features and services.

PATTERN GRAPHIX
Classified as an expert advisor software, Pattern Graphix works with MT4. It is useful in that the software is built to identify patterns and suggest which trading tools would be best to use. As such the client is able to keep all his or her trades under control.

3. MOBILE APPLICATION

Superforex had made a mobile application that provides all their clients' needs anytime, anywhere through your mobile device. Through the app, a client can simply check on his or her open deals or close those that have been accomplished. The app is able to effectively replicate all the features available through Superforex's web app.

TYPES OF ACCOUNTS

At present, Superforex offers 3 types of accounts:

1. STP
2. ECN
3. DEMO
PARTNERSHIP PROGRAM
Superforex offers its clients the opportunity of developing their very own business through referring its trading services to possible clients. This is what constitutes Superforex Partnership Program. The broker's partners are eligible to compensation once they are able to ensure a client to Superforex.

The firm's clients are given access to an array of products that allow for the partner's selection of the best strategy for conducting business:

* Commissions of up to 75% on the spread.
* Purposeful promo materials that would help attract prospective clients.
* Personal Affiliate Managers who will be giving clients experts' advice.
* Option for automatic rebate for the partner's clients.
* The chance to offer a 100% tradable bonus for the partner's clients.
* A wide selection of partnership programs
* A ready-to-use partner website.
* Detailed statistics

In addition, all partners are viable to the "Golden Challenge". Once a client becomes a Superforex partner, he or she is automatically eligible for the challenge. The partner who is able to accumulate the most commissions will be given one Gold Bullion.

AWARDS
Since the beginning of its operations in 2013, Superforex had received a number of awards that are a testament to its performance and reputation in the trading industry. These are as follows:

1. Best Newcomer – 2015, Awarded by Forex Report
A body that administers yearly research and assesses brokers, traders, and latest tech in the market, Forex Report honors private entities and individuals who had innovated the industry and had rendered high-quality services and innovation, or have otherwise contributed to the development of the industry built around the financial markets.

2. Fastest Growing Broker – (2015) from ShowFX World
ShowFX World awards what it assess to be the most promising and the best brokers and financial service providers in the industry. The company keeps abreast with technological innovations in the financial field and is diligent and proactive in giving various financial literacy seminars.

3. Best Forex Broker in MENA region (2016) from ShowFX World
Uniting the leaders of the Forex industry, ShowFX World, an international financial event organizer, stands by an advocacy of honing the best conditions for market participants across the globe. The award, "Best Forex Broker in MENA Region" recognizes the broker that given the most reliable and trustworthy service in the Middle East and North Africa regions.

4. Best Affiliate Program (2017) from ShowFX World
Through the 2017 annual ShowFX Asia conference in Singapore, SuperForex had been awarded for its extensive efforts to render a notable affiliate program, thus being given the award, "Best Affiliate Program". Superforex had provided a venue for 10 different kinds of partnerships suitable for people from all walks of life. It had created a separate Multi-Level Affiliate program that gives its clients the opportunity to develop a network of up to five tiers of sub-partners. Superforex's Partnership Program also offers an affiliate commission of up to 75% on the spread.

5. Best New ECN Broker in Africa (2020) from Global Brands Magazine
A UK-based publication, Global Brands Magazine assesses and awards companies which they see to be poised for great advancement in their field. Superforex was awarded by Global Brands Magazine for its dedication to innovation, top-tier services, and relentless effort to develop a network of traders and partners in Africa.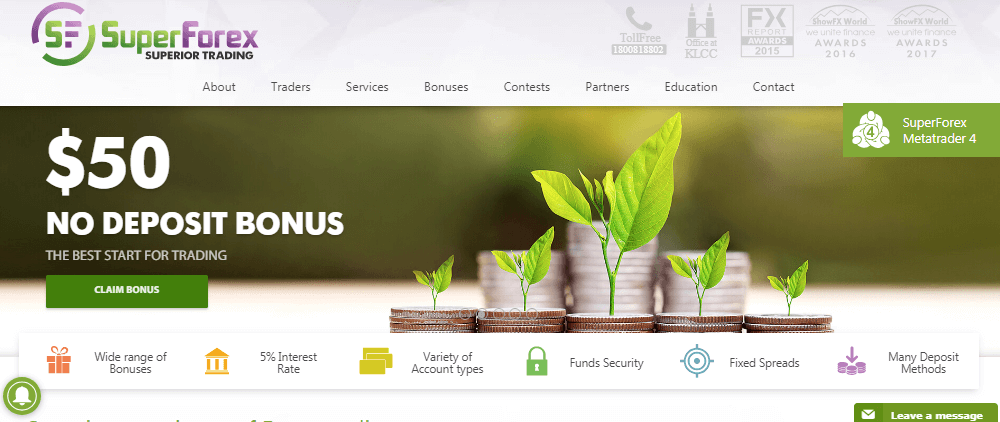 REGULATION: THE INTERNATIONAL FINANCIAL SERVICES COMMISSION (IFSC)

Superforex found legitimacy through its regulation by the International Financial Services Commission (IFSC), a financial regulatory, government agency based in Belize. This legal entity grants the license to operate for investment firms, brokerage firms, and brokers. Much like other internationally-known online forex brokers, Superforex had been able to gain its license to operate internationally from IFSC.
Back in 2016 the IFSC saw the need to increase its capital requirements. As a result, the funds a broker needed to have at his disposal to carry on operating is now $500,000.
The IFSC yearly assesses SuperForex to see if it meets all requirements needed for a broker to continue operating legally.

RECOMMENDATION

Apart from its already notable trading instruments and offers, Superforex had indeed proven its worth in the trading industry through the awards that it had garnered throughout its short tenure in the industry. And not to belabor the point, 5 awards in 5 years is impressive.
Among the notable facets of this broker is its Affiliate Program which gives an extensive venue for traders to share experiences and grow together. Furthering this enticing offer, Superforex had also thrown in a Golden Challenge, entitling its partners the chance to get a Golden Bullion.
Bearing these in mind, Superforex might just be the brokerage firm that the reader of this review needs. But of course, basing one's decision on a singular online review is not necessarily wise. It is still recommended that the reader conduct further research to ascertain which broker would fit his or her trading needs.